Connor De Phillippi Interview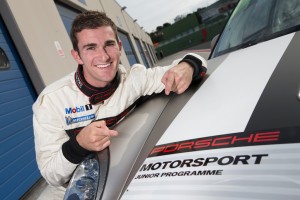 Connor De Phillippi is smiling. The affable SoCal native recently learned that he earned a spot on the Porsche Junior Team and along with it a Porsche funded scholarship to race in the Carrera Cup Deutschland.  I guess we'd all be smiling with that kind of news.  To say the last year has been eventful for the 20 year old from San Clemente would be a gross understatement.  He went from a very difficult – not of his doing -  sophomore year in Star Mazda to his dream of a racing career in tatters to a spot on the professional ladder of the premier sportscar racing company.  All in the span of a few months.  Soon he will be following in the footsteps of the first and so far only Porsche Factory Driver, Patrick Long, a fellow SoCal racer, who also happens to be his mentor.
Connor and I met for a chat at Avila's El Ranchito in his native San Clemente.
Chet: How did you get started in motorsports?
Connor De Phillippi: When I was 5, I was living here in San Clemente and some neighbors were driving go karts in a big, open cul de sac area at the bottom of my hill.  My Dad and I stopped by – we were on our way home from somewhere.  They had a little cone circle going on.  Running little 50cc engines, a beginner class of go kart.  Every day after that I just annoyed my parents until they said I could do it.  That was then I was 4 and finally on my 5th birthday I got my first kart.  And I started karting and racing.  It all started then.
Chet: How long was it until you were competing?
Connor De Phillippi: Right away.  Five was when you could legally start racing.  When I first started out, I was part of the first wave that generation.  Before then, the youngest you could start karting was 8 or 9.  They just introduced what they called kid kart, which is where you could be 5.  It was like 5 to 8.  So I got into it right away when I was 5.  For the about the first 6 month we were just practicing and feeling it out; then my Dad and I got a taste racing and it took off from there.  We would race at Adams Kart Track in Riverside.  Also El Cajon at the speedway down there.  And Willow; I would got to Willow a lot.  There was a group that raced there almost every week.  Between Riverside and Willow, those were our two spots.  Lots of seat time.  Originally it was something that my Dad and I just did as a fun sport that we really liked doing.  Then we started getting deeper and deeper into things, and it started turning into something I wanted to do for my career.
Chet: When did you realize 'this is it; this is what I want to do professionally'?
Connor De Phillippi: It was in my final years of karting.  When I was about 14 it came to deciding do I stay in karting, what do I want to do after this, do I move to cars, do I plan on doing this as a career?  When I was 15, I won the Skip Barber Karting Scholarship Shoot Out, and do that gave me the funding to move up into cars.  So I raced in the Skip Barber National Championship on a fully funded ride from Mazda in their scholarship system.  And then Ford pitched in my first year in cars.  Then with family money and a couple of sponsors we funded my second year in Skip Barber National Series.
In my second year in Skip Barber Nationals, I won the championship, so that gave me the funding to move up to Star Mazda.  If it wasn't for Mazda's scholarship program I would not have been able to keep moving up.  It was a $350,000 scholarship I won from Mazda to move up to Star Mazda – that's how much it costs.  So that was a fully paid ride; I just had to pay for traveling and hotels, which is expensive in itself.  I did well that year; I ended up third in the championship and won Rookie of the Year.  And that was finally a full wing and a proper race car.  With Skip Barber cars it's just a bit lower tech than Formula Ford, and basically you race that series to get your race craft down and understand the race car.
Chet: Is that the same car as the Skip Barber Open Wheel School.?
Connor De Phillippi: Yes, that's the same car.  So then I transitioned to Star Mazda, which was a big step up.  Double the horsepower, real downforce, slick tires, so it was a real eye opener.  It took me about half the season to really get it wired, and then I won the last race of the year and ended on a high note.  Then in 2011 we had to raise the sponsorship for the full Star Mazda season, and managed to do that.  We did really well and won a lot of races.  We had a tire failure in the middle of the season, which at the end of the season ended up costing us the championship – the points we lost that weekend were what we lost by at the end of the year.  It was kind of a shame, but it was a good year: we got second in the championship and won the team championship.
Then for 2012 I had the partners and investors in place to try to make the jump to Indy Lights, and then one of the people pulled out like two weeks before the start of the season, so I had no ride.  Luckily my sponsors kept with me, so I did Star Mazda one more year, but by that point, all the good teams were filled up.  There were no slots available.  So I went with a team that I thought was good enough for me to still win the championship, but there were a lot of internal problems with the series regarding engines.  Needless to say we competed the entire season about 20 HP down.  We still managed to win a race, but we weren't able to produce the results, to really be competitive for the championship.
Chet: The winner of Star Mazda gets a fully funded Indy Lights ride right?
Connor De Phillippi: Yes, exactly.  That's what I was shooting for.  Around August or September of last year, I reached out to Patrick Long.  Throughout the season I was thinking 'this is not looking good' with all the engine problems we were having.  We went through 7 engines last year just trying to find one that was competitive.  At one point we were losing a half second just down the straightaway.
Chet: Aren't they all spec engines in Star Mazda?
Connor De Phillippi: Yes they are spec engines., but with the rotary not in production before there was a problem.  We had gotten rid of our original OEM engines from the factory because Star Mazda was going to be rebuilding them and freshening them up.  We started buying the fully rebuilt ones from Star Mazda, and they were having 35 psi less compression than the ones we got OEM.  When word got out that the rebuilt engines were down on compression and horsepower, anyone who still had OEM engines from last year just kept them instead of trading them in.  But we had already turned all of our in, so for the rest of the year there was nothing we could do about it.  It was a growing year.
So around August or September I started talking to Patrick.  I realized I wasn't going to win the championship so I needed to realistically look at things.  Directionally wise, I was at the point where if I was going to make the commitment to switch to sports cars and try to get with a manufacturer I need to do it now before I get too old.  So I spoke with Patrick quite a bit, and he mentioned that there might be a chance for me to be part of a scholarship shootout.  So I said alright, it's either that, and hopefully I win it, or I go to college.  Those were really my two options because I didn't have the $800,000 to go to Indy Lights, and I didn't really want to go find investors to invest in me to go race in Indy Lights and compete against 7 guys – it wasn't really going to prove anything.
So from there things developed, and I met with Jens Walther from Porsche Motorsport North America.  We got along really well, and he offered me a place to go to the shootout, and that was in October.  Things went really well, and I made it through the first stage.  I did really well in the car as well, and I got one of the spots.
Patrick's been a big help.  He's mentoring me.  When it came to picking a team, he helped me go over things, the pros and cons of each one, what might be the best option.  He's taken me under his wing, and I think he definitely wants to see me succeed, which is a good thing to have in my corner.  He's even helping me to sort out the living stuff.  There's a lot to get done.  I've finally finalized the primary sponsor, so we're working on the contract with them. The team wants to do a test in a VLN Race at the Nurburgring Nordschleife, so I need to get all the contracts sorted here and then move there and get ready to start driving by a few weeks from now.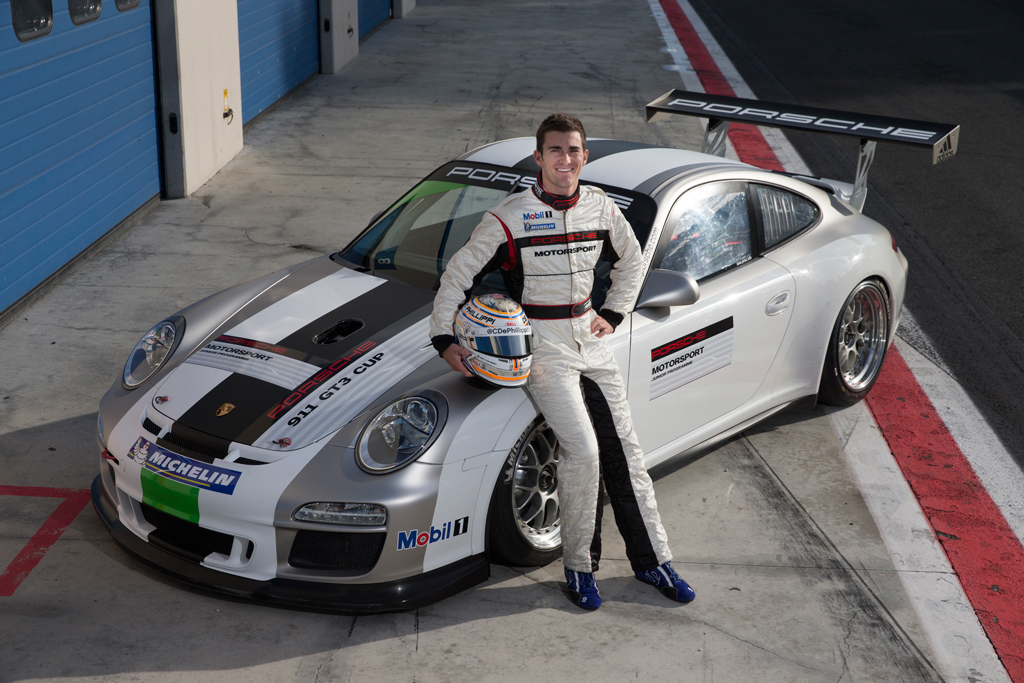 Chet: So back to the Porsche Junior Driver selection.  It happened in two stages, right?
Connor De Phillippi: Yes, we started with nine, and six made it to the second stage, and from those six they chose two drivers.  When they went to six, it was two Swiss drivers, a Spanish driver, two Dutch drivers, and me.  All the German guys were eliminated at the first stage, which was really interesting because we all thought at least one of them was staying.  I became pretty good friends with one of the Swiss guys and he said for sure one of the German guys would make it.  So we were all pretty nervous waiting the couple of weeks for the decision.  But that wasn't the case
Chet: So the two people selected, Alex Riberas Bou from Spain and you, get to drive in Carrera Cup Deutschland, right?  How does the program work?
Connor De Phillippi: We're considered Porsche Junior Drivers.  Porsche gives each of us 150,000 Euros, which is about 60% of the budget, so we still have to find a hefty chunk of money.  We also have to pay for our own traveling expenses and living expenses.  So the first year in the program, they really make you work for it.  They want to see that you're business savvy.  Obviously they know the money is hard to come by, so it's really a test your first year having to put all that together.  So far, I've been able to do it.  The Junior Program a handful of years ago was fully funded.  It was an in-house, factory effort.  The factory ran their own program.  The drivers made salaries, they were given Porsche cars to drive, they lived in Europe, they paid living expenses.  Now they only fund 60%, they don't give you a car, they don't pay expenses.  They give you the money, and you have to go out to teams and negotiate rides.  Also, the two Juniors are not allowed to be on the same team.  The reason they did all this is because this its a customer based series, and if they just have the Juniors show up every week and wax everyone else, it doesn't look good for them, the customers aren't happy.  So they got away from that and made the Juniors go to the teams.
So Alex is working on his sponsorship still.  Especially with the horrible economy in Spain; its worse than ours.  Our economy is a little better, but its not much better, and trying to convince people and finding an international company that's willing to listen to a 20 year old on putting together a marketing campaign over there is quite difficult.
Chet: Does Porsche help you with sponsorship at all, or are you completely on your own?
Connor De Phillippi: If we ask for ideas or 'what do you guys think about this?' they'll give us feedback, but they're not necessarily hands on.  If we have questions or want to bounce ideas off them, they're definitely willing to listen.  My primary sponsor is an anti-virus software company up in San Francisco, and their parent is a Korean company that's the biggest anti-virus company in Asia.  They're looking to grow here in the US. They came to the US the beginning of last year.  They've grown quite a bit here, and now they're looking to grow in Europe as well.  And being an American, I can offer them exposure here, so I'm hoping to do a couple of races here as well, and also in Europe.
Chet: What's the name of the company?
Connor De Phillippi: It's Roboscan Internet Security.  ESET, Roboscan's competitor, has a lot of cars in Europe.  In the series I'll be racing in as well as a couple of other sportscar series over there they have ESET Farnbacher Racing.  So I showed them that if they are trying to compete with ESET, they should be doing what ESET is doing.  Plus, I can offer it to them at a fraction of the price because of my Porsche funding.
Chet: Where will you race over here?
Connor De Phillippi: We're still working on that.  Probably the Rolex 24 at Daytona next year.  I'd like to race with an F1 event and a couple of other IMSA Challenge events.
Chet: So it was something that you went to the Junior Driver selection having never driven a Porsche or the Vallelunga track.  Do you have a process for learning a new care or track so quickly?
Connor De Phillippi: A lot of it was repeating what I have been doing for so long, kind of instinct.  I obviously did my homework.  I watched as much video as I could.  I watched some onboard to find starting brake points.  As far as learning a new track, that's always been something I've been good at.  I always like doing at least two really slow laps.  Forget about the car and just focus on the line of the track.  Learn all the bumps and observe everything.  Pick out what you can use as references.  If you go out of the box and just start pushing hard, I feel like it's a lot more difficult to find really good references.  So I always take a few laps just to paint the picture, and then I'll get on it.  The third lap is when I'll start working on my brake zones.  With a Porsche it's all in the brakes.  It's all about getting in and getting out. If you can get in good, you'll gain a lot of time.  If you get in okay and you focus on getting a good exit – okay, a good exit is important, but you'll always gain more time by hustling the car in.  Even if you get back to power a little later, the time you gain on entry will be more.  I focus on braking later and later.  At the end of the second day my fastest lap was my very last lap, and  everywhere I was braking later.  Braking with fenders was really difficult.  It was so much different than what I was used to.  Even in my fastest lap, I had a really big lockup.  You can't see it, and you can't feel it because of power steering.  You can hear it a little bit, and then you see smoke coming into the cockpit.  In the race car, you can set it up so that a light will come on saying that your right front is locked up or your left front is locked up, but for the test day, they had all that off, so you really had to go by the seat of your pants.
Chet: What's the name of the team?
Connor De Phillippi: Lukas Motorsport, a Polish team.  They are based in Bielsko Biala in Southern Poland.  My first couple of weeks over there, I plan to live near the team in Poland just to get used to everybody, get to know the guys, and work in the shop a little bit.  I'll travel with them to the first couple of races; then I'll move to Stuttgart later on.  We have a two car team.  Robert Lukas is my teammate; he's been doing Super Cup and Carrera Cup for a couple of years now.
Lukas offered me a really good deal.  I was able to cover all of my costs with my primary sponsor.  They also have a guy named Frank Funke, who is one of the best Porsche engineers.  They hired him last year, and we really get along well.  He worked with Patrick Long at White Lightning when they won the ALMS title.
Chet: In Carrera Cup, is it a mix of gentleman drivers, people who are trying to move up, and paid drivers?
Connor De Phillippi: That's right.  People like Sean Edwards and Rene Rast, who was part of the Junior Program in 2007.  There's a lot of really talented drivers.  Porsche does not expect us to go in there and clean house.  If we get a couple of podiums and make no mistakes, I think we'll be looking good.  Obviously as a driver though, you want to go over there and win, so my goal is to win.
Chet: You're just starting on a great journey here.  What are your goals going forward?  What path would you like to take?
Connor De Phillippi: I would like to stick with Porsche for the rest my career.  I'd say short term is to do well this year, do Supercup in 2014, and hopefully third year by signed in a factory role.  The ultimate goal would is to be part of the LMP program at some point.
Chet: Thanks for your time, Connor.  I wish you all the best.
You can follow Connor De Phillippi's Carrera Cup Deutschland season here: Porsche Carrera Cup Deutschland
Watch Connor's races live here: Porsche Carrera Cup Deutschland Live
I'll also be posting frequent updates on this site.
Note: Unfortunately Connor's debut with Lukas Racing at the VLN Nurburgring race was cancelled due to lots of snow.  Instead of a Porsche Cup Car in his hands, he had a snow shovel.